The following press release was issued by the club yesterday following a 12 noon press conference which was held at St James Park.
---
Exeter City Football Club today have the proud pleasure to announce that Michael Jackson will be visiting the City of Exeter and St James' Park on Friday 14 June 2002.
The Grecians' will be opening up the Stadium and holding an event to highlight the need to support Children with Aids and Support for Africa. (We would like to emphasise that Michael Jackson will not be performing) Michael Jackson will be holding a short talk to address the people of Exeter.
Other acts that have agreed to appear are singer Patti Boulaye, the Golden Jubilee Gospel Choir, one of Uri Geller's discoveries Luke Dawson and the main stream rock band Spoonbender.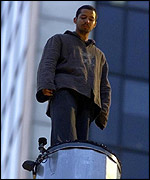 Blaine
Another big name that is to make an appearance is mystifier David Blaine, who's most recent feat was to stand on a 22 inch platform eighty feet above Manhattan for 35 hours.
Tickets will go on sale from 9am on Thursday 30 May 2002 from the ticket office in the St James' Centre which will be open until 7pm. For telephone bookings call (01392) 254073.
Tickets will be priced at £10 for Adults and £6 for Children. Anyone wishing to purchase tickets with a Credit Card will attract a 50p per transaction booking charge. This event is being held in conjunction with Trident Vehicle Hire.